Terrestrial Information Centre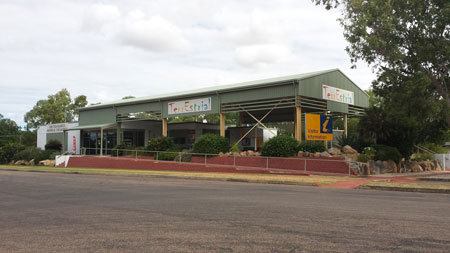 The TerrEstrial Centre is an accredited Visitor Information Centre offering information including maps, brochures and itineraries. Staffed by friendly informative people that can provide advice on things to see, things to do and where to eat. Come in and discuss your travel plans with the friendly staff.
Opening Hours
April - September
Seven days: 8:30am - 4:00pm
October - March
Monday - Friday: 8:30am - 4:00pm
Saturday - Sunday: Closed
2021 Christmas Period
18th December 2021 - 2nd January 2022: Closed
Public Holidays
ANZAC Day Sunday 25th: Closed
Labour Day Monday 3rd: 8:30am - 4:00pm
Queens Birthday: Closed
CHristmas Day, Boxing Day & New Years Day: Closed
The TerrEstrial is unique in its concept, a Visitor Information Centre, Council Library, Internet Café and one of the Shire's most significant tourist attractions, The Ted Elliott Mineral Collection. Opened in May 2003 the Centre was jointly funded by the Etheridge Shire Council and the Qld State Government along with funding from the Qld State Library and donations from various companies such as the now closed Kidston Mine.
Accredited Visitor Information Centre
The friendly staff at our accredited Visitor Information Centre provide travellers with information about road conditions, what to see & do, where to camp, maps of the region, as well as take bookings for some of the local attractions.
Etheridge Shire Council Library
Our Library boasts a large range of adult and children's books in most categories. Arrangements can be made for tourists who wish to borrow from the Library while holidaying in the area (conditions apply).
Internet Café -
WiFi is available for visitors with their own devices.
The Ted Elliott Mineral Collection
The Collection comprises over 4500 specimens and is magnificently displayed throughout nine themed rooms, ranging from local mining to specimens from around the World. This collection is the culmination of a lifetime of work by Ted Elliott and is reputed to be the most detailed and comprehensive private collection in Australia, rivalled only by the Geological Museum in Canberra. There is a small fee for viewing the Collection however it's well worth the cost. Souvenirs and mineral specimens are available for sale along with a DVD and full colour book on the Collection.
This beautiful centre is definitely a must when you visit Georgetown.
The TerrEstrial Centre Georgetown is an initiative of the Etheridge Shire Council.
Terrestrial Website
Contact Details
Address: 20 Low Street, Georgetown QLD
Postal address: PO Box 12, Georgetown QLD 4871
Email: terrestrial@etheridge.qld.gov.au
Phone: 07 4079 9027