GETTING HERE
Discover the attractions along the way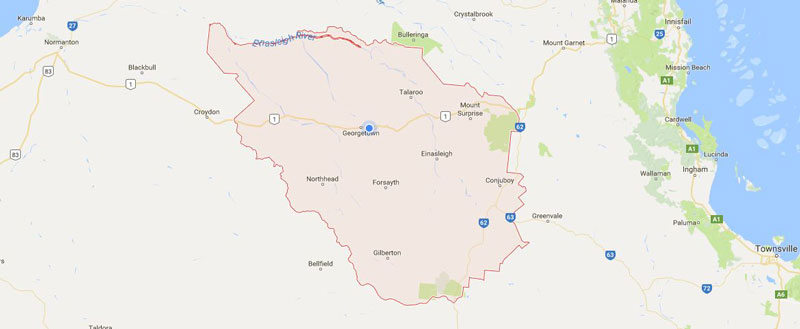 In Your Own Vehicle
The Etheridge Shire is your half way stop between Cairns and Karumba. Follow the Savannah Way when travelling east from Karumba or west from Cairns. As road conditions can vary during the 'wet season' (generally from December to April) please check the current road conditions before you leave.

Train Journey
The Savannahlander is one of the great rail journeys of Australia. This unique outback rail experience departs Cairns weekly, winding its way through the wet tropics area of the Kuranda Range and out through the Savannah country to Forsayth and back on a 4-day tour. Highly personalised, you will enjoy the tour alongside our drivers in our 1960's classic "silver-bullet" railmotors. With options for short tours and visits to Cobbold Gorge and Undara, this is a must-do Etheridge experience. A relaxed pace, great company and travelling in style through the country will leave you with memories you'll never forget.
Visit the Savannahlander website for further information or to make a booking.
Bus Service
Mt Surprise and Georgetown are serviced by three return trips a week by Trans North Bus service. This service links Cairns on the East Coast to Karumba in the Gulf of Carpentaria. This service also links the Savannahlander rail service to allow travellers to explore our region more thoroughly.
Please visit the Trans North Bus Service website for timetables, ticket sales and departure points or phone (07) 4095 8644.
Light Aircraft
Georgetown and Mt Surprise both have sealed airstrips. Einasleigh has a gravel strip. There are no flights to and from these airfields though if you have your own aircraft permission to utilise these strips can be obtained from the Etheridge Shire Council on (07) 4079 9090 or email info@etheridge.qld.gov.au.
Airstrip Information
Einasleigh Airstrip

Latitude 18° 32'S
Longitude 144° 05'E
Elevation 1485 ft
Runway Bearing 351° 55 minutes 34 seconds
Sealed and Line Marked 1150m ·
Strip width 15m (gravel)
Solar lighting

Forsayth Airstrip

Latitude S 18° 35.2
Longitude E 143° 33.97
Elevation 1390 ft
Runway Bearing N/A
Sealed and Line Marked1200m
Width 18 metres
The runway has a dip in the middle
Solar lighting

Georgetown Registered Airstrip

Latitude 18° 17'S
Longitude 143° 33'E
Elevation 995 ft
Runway Bearing 224° 17 minutes 25 seconds
Sealed and Line Marked 1158 m
Strip width 18m
PAL+AFRU126.7 Lighting System

Mt Surprise Airstrip

Latitude 18° 10'S
Longitude 144° 17'E
Elevation 1300 ft
Runway Bearing 222° 31 minutes 50 seconds
Sealed and Line Marked 1150 m
Strip width 15m
Solar Lighting
Airport Recording Officer
Shane Butler
Phone: 0427 621 279
Mobile Phone Coverage
View Telstra's Coverage Map and search 'Georgetown', 'Mt Surprise', 'Forsayth' or 'Einasleigh' to see where mobile reception is at its best in Etheridge. Some helpful hints for travelling where you don't have constant coverage are: downloading your playlist before you leave town, planning your stops and letting someone else know your journey plan and keeping them posted. Safe & happy travels!