Mayor & Councillors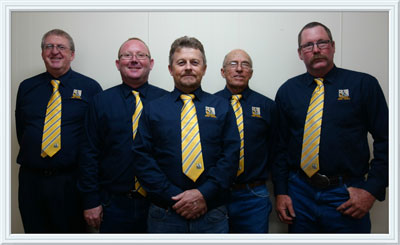 From Left to Right - Cr Will Attwood, Cr Troy Barnes, Mayor Warren Devlin, Cr Tony Gallagher and Deputy Mayor Warren Bethel.
Mayor Warren Devlin
Mobile: 0458 621 233
Email: mayor@etheridge.qld.gov.au
The youngest of three siblings, Warren was born just outside of Sydney in the town of Camden NSW. During his childhood Warren's parents worked throughout Australia and travelled numerous places with the family. Warren even has memories of being here in Etheridge fossicking at Agate Creek when he was around five years old. In his formative years, Warren's family owned and worked a farm on the north coast of NSW where they had dairy and beef cattle.
With the arrival of his driver's licence Warren travelled north to settle at the Atherton Tablelands where he used to visit his father, who was prospecting for gold in the Etheridge Shire. At first Warren made short visits out but with his growing interest in mining, those visits progressively got longer and longer until he was spending more time in Etheridge than he was on the Atherton Tablelands. So Warren moved over and began gold mining and prospecting. Having been in the shire for a while, in the late '90s when several businesses in Georgetown closed, Warren began to notice the lull and decided to do something about making Georgetown the business hub of the community again. Through sheer grit and determination he built the Georgetown Roadhouse to the business it is today, now being self-sufficient and employing half a dozen staff.
Warren is now back for his second term as Mayor of Etheridge Shire and brings his business know how to the table. He plans to finish the job he's started and apply the same principles of creating jobs and working towards financial independence, to developing the shire as Warren used to develop his businesses. In 2010 when Warren was previously Mayor, Etheridge Shire Council won the Infrastructure Development Award for the Einasleigh River Bridge. This time Warren plans to develop the irrigated agriculture potential of the Gilbert River, which will economically support the growth of the area and complement the existing beef industry. He also continues to be very passionate about developing the Gulf Development Road, the Forsayth Road and the Hann Highway and supporting local contractors.
Deputy Mayor Warren Bethel
(Onwards from 23 January 2019)
Mobile: 0448 089 140
Email: cr.bethel@etheridge.qld.gov.au
A grazier and Rodeo Stock Contractor who's family history dates back more than one hundred years in the Etheridge Shire. This is Warren's second term as a Councillor with the Etheridge Shire and Warren was a previous councillor with the Croydon Shire Council. Warren brings a balance of traditional rural skilling and temperate modernization to the table. Warren's strong interest is to improve opportunities and skills for young people of the shire and provides a much needed rural appreciation to the team.
Councillor Will Attwood
(Served as Deputy Mayor from 21 March 2018 to 23 January 2019)
Mobile: 0448 089 068
Email: cr.attwood@etheridge.qld.gov.au
Will was born and raised on a dairy farm near Daylesford in Victoria. He attended Daylesford Technical/High School. At 16 he joined the Victoria Police Cadets on 2/2/1971 and then graduated as a police officer 18 months later. Will was stationing in the Melbourne CBD and suburbs, Colac, Highway Patrol, Cheltenham Crime Car Unit, Community Policing Squad, Swan Hill, Portland, Traffic Research Section, Shepparton and Portland again. Will moved to Qld in 1997 and after a short stint of retraining in Brisbane he was stationed at Cairns and the Esplanade Police beat for 5 years. Will then moved to Laura and then to Pormpuraaw. Finally he finished off his policing career at Georgetown. Will retired from policing in July 2011 after having spent 40 years serving the communities of Victoria and Queensland. After six months of retirement Will was looking for a new challenge, he stood for election for Mayor. Will is married to Dawn and they have six children, three of them live in Georgetown, Paul (Wilson), Felicity and Kathryn. The others reside in Weipa, Tamworth and the Gold Coast. Will has been a bit of a nomad but now Georgetown is home, Will and Dawn have bought a house in Crampton Road and intend staying put.
Councillor Tony Gallagher
(Served as Deputy Mayor from 2016 to 21 March 2018)
Mobile: 0448 089 144
Email: cr.gallagher@etheridge.qld.gov.au
Born and raised on a cattle station outside of Normanton. Tony attended Normanton State School to grade 8 then Saint Theresa's Agricultural College outside of Ingham up to junior. He started work at 15 years old on Esmeralda Station outside Croydon and later moved to Forest Home Station outside Georgetown then onto Lyndhurst with the same company as head stockman. Tony became the manager of Carpentaria Downs and Lyndhurst and General Manager of Carpentaria Downs, Mywyn, The Lynd and Lyndhurst. Purchased the Butcher Shop in Georgetown in 1994 and moved there as a single parent with his son Aaron. Tony has two other children Brett and Juanita close by. Aaron and Tony purchased Stoney Etheridge Station and Aaron now runs the shop whilst Tony lives at Stoney Etheridge. Most of Tony's working life has been spent in the Shire and he would not want to live anywhere else.
Councillor Troy Barnes
Resigned as at 17th of May 2019
Troy was born in Atherton and spent his early years living in various locations across the Atherton Tablelands and Far North Queensland. He attended Yungaburra State Primary School and Atherton State High prior to moving to Brisbane for university studies in Commerce. Following this he returned to the Tablelands where he operated a successful security company and became a part time Disc Jockey at several local nightclubs and hotels. In 2004, Troy applied to and was accepted as a recruit for the Queensland Police Service and since then has worked in varying locations including Mareeba, Croydon and Tambo. Whilst serving in Croydon, Troy was the awarded recipient of Australian Citizen of the Year for his community involvement. Being passionate about the Etheridge Shire and having a strong desire to raise a family in the area, Troy applied for, and was successfully promoted to his current role as Officer In Charge of Georgetown Police. Troy is married to Sam and has 2 beautiful girls, Amber and Mikaylah, who keep him on his toes. Sam is currently completing university studies in early childhood education and has worked extensively in childcare and education roles. Troy, Sam and the family are passionate about the local area and have every intention of being long term residents of the Etheridge Shire.
Councillor Edward (Ted) Loudon
Mobile: 0448 089 047
Email: cr.loudon@etheridge.qld.gov.au
Edward (Ted) Loudon first moved to the Etheridge Shire when his parents purchased Wirra Wirra Station outside of Forsayth. After completing year 12, Ted began working on the family station as well as several other stations within the Etheridge Shire. Soon after, Ted began working at the Kidston Gold Mine as a machine operator until 1999. That same year he purchased his first earthmoving machine and started his own business 'Wirra Earthmoving'. After 20 years of running 'Wirra Earthmoving' Ted prides himself on maintaining a positive rapport with the members of the Etheridge Shire. Within this time he has also taken ownership of Wirra Wirra Station where he resides with his partner Irene and there twin sons. Having a young family growing up within the Shire he is striving to see strong economic growth, quality education and healthcare as well as ample job opportunities for young people in the Etheridge Shire.
The purpose of the Councillor Conduct Register is to record the decisions/outcomes of investigtions made against Councillors under Chapter 5A of the Local Government Act 2009.