Community Halls
Bookings
When making a booking for a Shire Facility or Hall, please use the:
Community Facilities Booking Form
Submit your completed form at the Shire Office or via email to info@etheridge.qld.gov.au.
---
Etheridge Shire Hall
Also known as the "Georgetown Hall", the Etheridge Shire Hall was built in 1908 as the original Shire council office. Later it became the Shire hall and School of Arts. In the 1990's, the hall was completely renovated and dedicated to the fallen servicemen and women from the Etheridge Shire in all wars.
This hall has wonderful pressed tin ceilings, weatherboard walls, and a Queenslander style verandah with turn of the century architectural detailing. It is a beautiful historic location for your next event in Georgetown.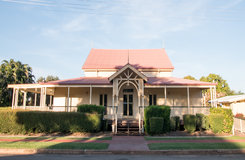 ---
Mt Surprise Public Hall
---
Einasleigh Public Hall