Australia Day Awards
Congratulations to the 2022 Australia Day Award Winners!

2022 Australia Day Award Winners
Citizen of the Year
Jodi Kernan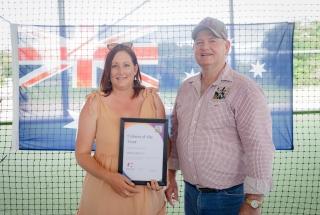 Jodi Kernan with Mayor Barry Hughes
Jodi has been an integral part of the Georgetown community for most of her adult life. Jodi has been involved in almost all committees in Georgetown over the past 10 years. These include the Georgetown Rodeo, Georgetown Horse & Pony Club, Georgetown Golf Club, Georgetown Bushmans Ball, Georgetown SS P&C and the Catholic Church. Jodi is a great volunteer and supporter of the community.
Her nominator said that, "Without young, enthusiastic and energetic people our small community would not survive. I believe Jodi's many hours of volunteer work should be recognised."
When choosing the award, the Committee noted that "Jodi's volunteer commitments stretch herself and her family to the limit, and yet she is still the first to put her hand up and help keep each of her organisations going".
She has been a Council employee for over 10 years. She has been the Treasurer of the Golf Club for many years, where she secured the grant funding for the recent refurbishment the clubhouse and spends many Friday's cooking dinners! Jodi is the President of the Georgetown Bushman's Ball Committee and is a committee member of the Georgetown Rodeo, P&C, and Horse & Pony Club. Furthermore, she has taken on a leading role in the refurbishment of the Georgetown Catholic Church.
Junior Citizen of the Year
Sheridan Young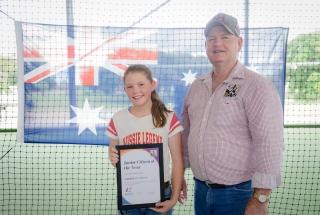 Sheridan Young with Mayor Barry Hughes
Sheridan is a kind-hearted child who is always willing to help others in her community. She regularly contributes to her school community, Georgetown State School through helping both her peers and teachers. For the last year, Sheridan has been a positive role model to children in the local community through her leadership role both as School Captain and Einasleigh Sports Captain.
Sheridan is an all-round achiever who excels both academically and within sports. She is always looking for ways to help others, no matter the situation. Sheridan recently assisted her elderly neighbour Mrs Lap. While Mrs Lap was away, Sheridan and other children from the Student Hostel attended to her garden and kept her yard tidy.
Sheridan regularly attends homework club, where she will also assist teachers in helping the younger children complete their homework before she completes her own. She is thoughtful and shows maturity beyond her years. Sheridan is constantly looking for ways to help and assist others in her day to day life. When she is older she hopes to be a cardio thoracic surgeon so that she can further help others.
Senior Sports Medallion
Clayton Pedracini
Clayton Pedracini is emerging as a community leader by his contributions to community life within the Etheridge Shire. Claytons involvement in local events and his willingness to step up and take on administrative roles for sporting clubs during recent Covid years has provided great benefit to many.
Throughout the last year Clayton has taken on an integral role in getting the Georgetown Joes cricket team up and running. He played a major part in organising the Joes as they represented our Shire at the recent Ashes event in Charters Towers. Clayton has also helped the Cricket club by arranging practice days for the team in the lead up to the event. He has also been involved in putting on the annual Gregg Bethel memorial game towards the end of 2021. Not only does Clayton lead in administration and management, Clayton leads on the pitch too, this year he was the Joes most productive bowler at the Ashes event.
Clayton is also the Vice President for the Forsayth All Sports Club and contributes significantly to putting on our Etheridge Show. We all understand how much of a lift big events like this give to our towns and morale, it takes community leaders like Clayton to stand up and make them happen. Clayton is always willing to pitch in at any community event and is usually helping behind the scenes somewhere at Horse Sports and Campdrafts.
Clayton's willingness to get involved in the space of sports administration is encouraging a wave of younger generation contributors to stand up and continue the legacy of hard work and community mindedness that has been instilled by our elder states people. The fact that our communities are places where it is cultural for people to get involved and give back to the communities they live in allow our communities to thrive. Council are pleased to see Clayton acknowledged for all of his contributions.
Junior Sports Medallion
Zai Hopkins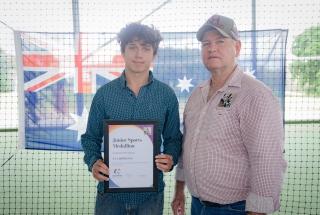 Zai Hopkins with Mayor Barry Hughes
Zai Hopkins is a 16 year old who grew up in Mt Surprise and attended the local primary school before heading off to boarding school at All Soul's St Gabriels in Charters Towers.
During the last 12 months, Zai has excelled in his sporting acheivements at school and within the Charters Towers community. Zai also suffered an injury to his jaw which required surgery. Zai delayed his surgery to play a game of rugby as he didn't want to let his team mates down - putting his own pain aside to support his team mates to win an important game…
Some of his notable awards include:
2020 All Souls St Gabriel's School Pennant for Rugby League
2020 All Souls St Gabriel's School Pennant for Cross Country
2020 All Souls St Gabriel's School Pennant for Touch Football
2020 All Souls St Gabriel's School Pennant for Netball
2020 All Souls St Gabriel's School Pennant for Cultural
2020 All Souls St Gabriel's School District Age Champion
2021 All Souls St Gabriels School Inter-House Cross Country Age Champion
2021 All Souls St Gabriels School Inter-School Sports Day Age Champion, where Zai also broke a 34 year old record in the 100 metre sprint
In October 2021, Zai made the "Merit Team" at the NQ Athletics Trials, while representing his school
Zai was the leading try scorer for the Charters Towers Rugby Union Football Club Juniors in the 2021 season
While playing in a Rugby 7s comp for the Charters Towers Rugby Union Football Club Juniors, Zai was asked to go up a grade from U16s to the U18s where he excelled
Zai was awarded the 2021 Senior Rancland Cup for Best All Round Sportsman
Zai was awarded the Charters Towers Mixed Touch Association's: 2021 Best and Fairest Award
While on school holidays, Zai is known to return back to Mt Surprise and help with manual labour jobs for the older generation in his community.
Senior Statesperson Award
Lux Lethbridge Senior
Lux Lethbridge Senior with Mayor Barry Hughes
Lux Lethbridge was born on 11.2.1941. Married to Linley, they have 3 children, 9 grandchildren and 5 great grandchildren.
Lux grew up on the family properties of Werrington & Glenmore. He went off the properties to gain experience and worked his way up to become a manager of Lake Nash on the Barkly Tableland. Lux returned to Werrington and purchased it from the family. This was the start of Lux's personal dynasty. He became a councillor on the Etheridge Shire and was for 20 years from 1982 - 2002. This was a time when councillors were paid a pittance for their attendance to represent their constituents.

Lux served on the Oak Park Race Club committee for 20 years, 10 as president and 5 as Vice President. During this time he instigated change such as the club running its own bar and hence retaining the profits. The club benefited by Lux's leadership and continued on to be one of the strongest country race clubs in Queensland. He is now the Club Patron of the Oak Park Race Club.

In 2019 Lux was the recipient of a medal from Emergency Services Queensland for 25 years active service to the Rural Fire Board.
Lux helped form the inaugural Northern Branch of the Cattleman's Union and was President for many years. Lux has lived and worked in the Etheridge Shire the majority of his life, been a rate payer, raised a family and successful grazing enterprise all while contributing to the economy of the shire.
Community Organisation of the Year
Mount Surprise Primary School P&C Committee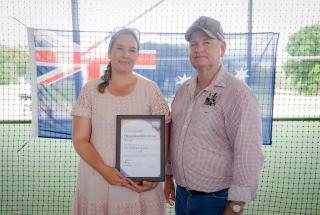 Shannon Zohl from the Mt Surprise P&C with Mayor Barry Hughes
The P&C ran the Interschool Cross Country in March with students from all across the district attending.
This year the P&C has been actively fundraising to raise much needed funds for the school community. The P&C started a new initiative and held two fundraising BBQ's along the main street where tourists and locals attended to support the school. These BBQ's raised funds for the school camp and for new flags for the school crossing. Well done to the committee for these initiatives.
The nominator stated that "The P&C is a vital part of the Mt Surprise school community".