Mayor & Councillors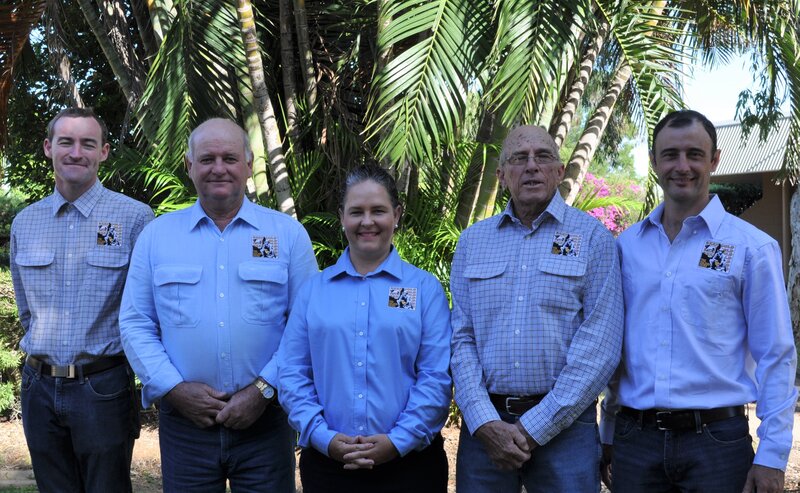 Left to Right: Cr Barns, Mayor Hughes, Deputy Mayor Royes, Cr Gallagher, Cr Haase
Mayor Barry Hughes
Register of Interests Form 1 - 29/10/2020
Register of Interests Form 1 - 23/09/2021
Register of Interests Update Form 3 - 26/11/2021
Register of Interests Update Form 3 - 28/07/2021
Register of Interests Update Form 3 - 23/11/2022
Register of Interests Annual Confirmation Form 5 - 26/07/2021
Barry Hughes is the Mayor of the Etheridge Shire based in Georgetown. Barry resides with his wife Tammy at North Head Station Forsayth, which has been in his family for over one hundred years. Barry's roots run deep in the Australian beef industry as well being a proud community member of the Etheridge Shire contributing on many levels of community involvement. These include holding executive positions on the Forsayth All Sports Club, which hosts the Etheridge Shire Show Day held at the Forsayth Turn Out Show Grounds as a premier annual event for the Shire of Etheridge. Currently Barry is serving the Northern Cattle Industry as President of the Gulf Cattleman's Association Inc. and has been for the last nine years. As beef production is the major contributor to the economy of Etheridge Shire this role ensures that a very good knowledge base exists across industry matters. Etheridge Shire has a long and proud history also with the mining and tourist industries that also contribute extensively to the Shire and region as a whole. Barry recognises the significance of such industries and the important roles that they present as job opportunities and career pathways for local residents. Having served previous terms as a Councillor and Deputy Mayor of Etheridge Shire, he is acutely aware of the importance of economic development to sustain the community's and industries across the vast region of North and Northwest Queensland. Therefore, Barry believes collaboration and partnerships are vital across Local Government jurisdictions to capture and leverage opportunities on matters such as strategic road upgrades, water infrastructure development, tourism networks and the like. This will ensure that a higher socio economic profile is attained for the wider region. Barry is very passionate about creating opportunities and pathways for younger members of the community to foster leadership and self-development aspirations to help create a balanced dynamic across industry and community organisations.
Mobile: 0458 621 233
Email: mayor@etheridge.qld.gov.au
Deputy Mayor Laurell Royes
Register of Interests Form 1 - 06/11/2020
Register of Interests Update Form 3 - 10/02/2021
Register of Interests Update Form 3 - 03/06/2021
Register of Interests Update Form 3 - 28/07/2021
Register of Interests Update Form 3 - 15/10/2021
Register of Interests Update Form 3 - 05/05/2022
Register of Interests Extract - 14/10/2021
Register of Interests Extract - 22/09/2021
Laurell grew up on properties throughout Western Queensland before shifting to the Atherton Tablelands and completing her schooling. Having worked with a stock and station agent and many years in contract mustering camps throughout the Gulf and Peninsula, she has always maintained a strong connection to the bush. Laurell was actively involved in the running of the Oasis Roadhouse prior to her and her partner Aaron Prior establishing a rural contracting business based in the Southern Etheridge Shire. The couple have established a grazing business based across several properties within the shire. Laurell has been an active community member since moving to the shire 16 years ago and as a family they are involved in several events particularly in the Einasleigh community where they live. They have 3 children, and when she is not fulfilling teaching and bookkeeping duties, Laurell is an avid gardener and loves to be involved in the paddock. Laurell's ambition to represent her community reflect her strong personal desire to ensure that her children get the same quality lifestyle and opportunities that generations within the Etheridge shire have been gifted before them.
Mobile: 0459 278 377
Email: cr.royes@etheridge.qld.gov.au
Councillor Joe Haase
Register of Interests Form 1 - 11/11/2020
Register of Interests Update Form 3 - 29/07/2021
Register of Interests Extract - 29/10/2020
Honoured to be a part of the Etheridge Shire Council team, Joe Haase (Haa-zee) is an approachable, community minded resident. In 2013 Joe moved to Etheridge to take on the role of School Chaplain for the Georgetown, Forsayth and Croydon State Schools. What began as an intention to come and serve in the bush for a year, evolved into a deep fondness for the region and the people that call Etheridge home. Joe has a bachelor in Human Movement Studies, and a background working in the health and wellness industry. He has also worked as a tennis coach in Australia and overseas, it is a passion of his to see people thrive and to reach their potential.In his term in Council Joe seeks to be fair-minded and to work hard at serving the current and future prosperity of our shire. He is keen for 'service' to be a priority in public service and to be able to connect the community with the decisions and movements of council. Joe is married to Bekky and has 2 children, Ezekiel and Torah. They live in Georgetown and enjoy being an active part of the community as well as dreaming up new projects to do around their home.
Mobile: 0459 623 582
Email: cr.haase@etheridge.qld.gov.au
Councillor Tony Gallagher
Register of Interests Form 1 - 30/10/2020
Register of Interests Form 1 - 22/09/2021
Born and raised on a cattle station outside of Normanton. Tony attended Normanton State School to grade 8 then Saint Theresa's Agricultural College outside of Ingham up to junior. He started work at 15 years old on Esmeralda Station outside Croydon and later moved to Forest Home Station outside Georgetown then onto Lyndhurst with the same company as head stockman. Tony became the manager of Carpentaria Downs and Lyndhurst and General Manager of Carpentaria Downs, Mywyn, The Lynd and Lyndhurst. Purchased the Butcher Shop in Georgetown in 1994 and moved there as a single parent with his son Aaron. Tony has two other children Brett and Juanita close by. Aaron and Tony purchased Stoney Etheridge Station and Aaron now runs the shop whilst Tony lives at Stoney Etheridge. Most of Tony's working life has been spent in the Shire and he would not want to live anywhere else.
Mobile: 0448 089 144
Email: cr.gallagher@etheridge.qld.gov.au
Councillor Cameron Barns
Register of Interests Form 1 - 03/11/2020
Register of Interests Form 1 - 22/09/2021
Register of Interests Annual Confirmation Form 5 - 23/07/2021
Cameron Barns has spent his life living and working in the Etheridge Shire. Living on a mining lease east of Agate Creek, he completed his schooling through both Cairns and Brisbane Schools of Distance Education before going on to complete a Diesel Fitting trade through Rockhampton TAFE Tech Collage. With his experience in the area Cameron has been self-employed providing grading, mechanical, and dam building services to local cattle stations, as well as joining his family on the Black Eagle Mining lease. Beyond his passion for the land, Cameron has an interest in music and fitness, as well as lathe machining and steel welding fabrication. As an elected Councillor for the Etheridge Shire Cameron enjoys serving the public interests and aspires to make positive changes on behalf of the Etheridge Shire community.
Mobile: 0459 136 283
Email: cr.barns@etheridge.qld.gov.au
The purpose of the Councillor Conduct Register is to record the decisions/outcomes of investigtions made against Councillors under Chapter 5A of the Local Government Act 2009.