Australia Day Awards
NOMINATIONS OPEN! - 2024 Australia Day Awards
Nominations are now open for the following categories:
Citizen of the Year
Junior Citizen of the Year
Community Organisation of the Year
Senior Sportsperson
Junior Sportsperson
Nominations close 4PM FRIDAY, 17TH NOVEMBER 2023
---
Congratulations to Etheridge Shire's 2023 Australia Day Award Recipients!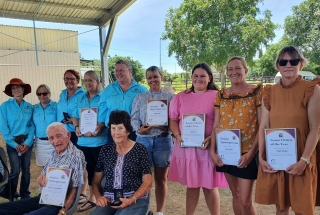 2023 Australia Day Award Recipients
Citizen of the Year
Diedre Hickey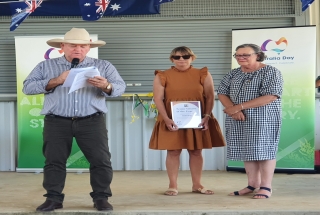 A born and bred Georgetown local, Deidre has lived in the Etheridge Shire for her entire life. Schooled in Georgetown and then attending boarding school, her roots run deep in this Shire. Deidre is married to Trumby and they have two daughters Katrina Rae and Jacinta. Deidre and Trumby have raised their family in Georgetown and along the way the whole family have been involved in most every club or committee that has existed.
Deidre has, from a very young age, been an active community member. For the entire time her girls attended the Georgetown State School, Deidre was very involved in the P&C and also any extracurricular activities. She was often the school taxi, be it carting kids to Karumba for team sporting events or to Cairns for representative trials. Deidre was instrumental in running little athletics in Georgetown whilst her kids were at school also.
Outside of the school, she has been a dedicated member of the local cricket club, Deidre is a driving force behind the Greg Bethel Memorial Cricket Day, a very special local event that many enjoy every year. She is equally as involved in the Georgetown Golf Club, from weekly dinners, annual competitions and everything in between that takes place at the golf club, she's involved.
Then there is her involvement in rodeos and horse-sports throughout the Shire. Deidre has been secretary of the Georgetown Horse sports Club for 10 years. At the rodeos and campdrafts you will always find Deidre either in the office, behind the bar or in the kitchen. As generous as she is, she always ensures the job is fun (and Deidre knows how to have a good time!) There are not too many clubs within the Shire that don't benefit from Deidre's time and contribution. The Einasleigh Rodeo, Races and Horsesports all benefit from Deidre's strong community spirit. I believe, Deidre has never missed a Forsayth Turnout in her life!
Most notable of all Deidre's contributions to our Shire, is her passion for helping those in their time of need. She has been the driving force behind some very profitable fundraising events to raise funds for local families. That said, it is her constant care for our aged residents (haircuts, mowing, gardening) and small daily acts of kindness that have the biggest impact on her community. She has always and no doubt will continue to be someone that gets things done and helps those that need help, either in an executive capacity, dedicated committee member, community member or friend. Deidre is the epitome of community generosity and reliability and for that reason she is a worthy recipient of the Australia Day Citizen of the Year.
Junior Citizen of the Year
Josie Prior
Josie is a generous and hard working young person, who values the great self-satisfaction that volunteering and serving others can bring. Since attending boarding school Josie has chosen to volunteer at any events she possibly can and takes great pride in representing her school at these functions. When home on holidays she attends social events with her family and always presents herself to the committee on arrival to offer her help. Josie has contributed to community events for many years however her recent contributions are as follows-
All Souls St Gabriel's School – Josie has been a very keen volunteer at all school events since starting at the school in 2020 including school formals, dinners sports days etc.
Charters Towers Community – Since attending boarding school in Charters Towers, Josie has been a member of the Charters Towers ZONTA Club.(Women's Rights).
Einasleigh Community – Josie is a very keen volunteer at all events held in the community. Josie works the entire weekend either in the canteen, the bar or the secretary office at the Einasleigh Races, Rodeo, Campdraft and the Horse Sports. Josie attends each working bee when able to on the school holidays.
Georgetown Community – Since her family moved to this community, Josie has volunteered at all local events that her family attend. She volunteered gladly when help was needed at the Rodeo bar, Secretaries Office at the Campdraft and the arena at the Horse Sports.
Forsayth Turnout – Josie very eagerly helped the committee at the Forsayth Turnout. Throughout the day she sold tickets and helped in the canteen and bar.
Josie is a proud resident of Etheridge Shire and understands that community events are only possible when everyone helps to make it happen. I do not doubt that Josie will return to the Etheridge Community once she finishes her schooling and will contribute to social and sporting events across the Shire.
Senior Sportsperson of the Year
Gill Graham
In 2022 Gill has been the volunteer coach for our Georgetown State School children both senior & junior teams for touch football and hockey. Gill volunteered many afternoons training our children to have them skilled up and prepared for carnivals. Gill provides a wealth of knowledge in these sports. The touch football carnival was hosted by Croydon State School in November this year where both our teams were awarded runners up for the carnival. In September the children attended the Karumba festival of sport. This was an action packed two days of hockey with some great skills and sportsmanship displayed by our children. The Senior team won the carnival and junior team tied with the Gulf Christian College. Gill hosted at least six weeks of training sessions with the kids on afternoons leading up to the carnival. Gill also took time off work to attend the carnival and support the kids as their coach. Gill is always willing to take the lead to assist with anything to do with kids sport, improving their skills, instilling sportsmanship and the 'get in and give it a go' attitude. We are grateful for the time and effort Gill has put in and are very proud of the achievements her teams have reached this year.
Junior Sportsperson of the Year
Nikki Bethel
Nikki Bethel is a local amongst the Georgetown community and is a very positive role model within her community. Nikki has a natural affinity for sports which she has developed through hard work and determination. Within the last year, she has received many sports accolades in both school and wider community events. She has been an excellent representative of both Columba Catholic College and the Etheridge Shire at these events. Nikki was a Finalist at the NQ Sports Star Awards for Junior Sportsperson of the Year.
Nikki is a strong competitor but also possesses great sportsmanship beyond her years. She has always put in 110% into whatever she does, whether it's competing or cheering on others in their own sporting endeavours. Below I have written the numerous sporting achievements Nikki has attained the following within the last year.
Townsville Frogs Touch Association
Northerns Under 12's Touch Football Team
Peninsulia U12's Touch Football Association
North Queensland Cyclones Under 12's Touch Football team
Queensland U12's School Girls Touch Team
Columba Catholic College Community
Charters Towers Community
Active community member helping at community events naming, Georgetown Rodeo, Georgetown Campdraft and Georgetown Horse Sports -- always there to help clean up, set up over the weekends and help pack up too.
Senior Statesperson Award
Ralph & Lorna Bethel
Both Ralph and Lorna were born in 1939 just 2 days apart. Ralph grew up at Durham where the Bethel family were and would ride his bike to school in Georgetown a distance of 4 miles or 6km. Ralphs father purchased Mt Turner when he was a young boy. Lorna grew up on Huonfels station owned by her family the Aplins. Lorna did correspondence until going to Mt St Bernards in Herberton for 4years. Ralph also went to Herberton but only for 1 year. He came back and started work on the family property Mt Turner at the age of 14 in 1953. Lorna returned after completing Junior (grade 10) and was the first girl employed by Etheridge Shire Council under the then Shire Clerk Edith Latchford. Their association started on neighbouring station at an early age. In 1957 Lorna was crowned Queen of the R.S.L competition to raise money for the building of the Community Pool. Ralph was establishing himself at Mt Turner and also becoming an amateur jockey and successful racehorse owner. He became a member of the Georgetown Turf Club and was on the committee for years. Ralph and Lorna married on the 16th April 1960 and went to live at Mt Turner. They were two of the founding members of the Georgetown Horse Sports in 1975 and both were made life members. Lorna held the position of secretary for 26 years. Ralph was always there to assist as a judge or anything. Lorna had a favourite horse called 'Scout' and still holds the record for the ladies flag race set in 1985. Ralph says she rode old Scout to death.
Ralph was elected to Etheridge Shire Council as a Councillor in 1976 and served for 20 years until 1996. Along the way they developed Mt Turner and raised 5 boys - Michael, Terry, Allen, Warren and Gregg. All boys attended the Georgetown State School and student Hostel before going to Mt Carmel College in Charters Towers. Ralph and Lorna made the trip from Mt Turner to Charters Towers 3 or 4 times a year for 17 years. Ralph and Lorna have 16 grandchildren and 14 great grandchildren. Their sons and various grandchildren own properties throughout the shire. Their family over the years have contributed to various community groups and sporting clubs following in Ralph and Lorna's footsteps. Michael was the first President of the Georgetown Rodeo Association and is now a leading saddler and tourism operator in Charters Towers. Ralph and Lorna donate financially to local events annually such as the Campdraft and Rodeo just to name a couple. They have also donated cattle for many years to the Georgetown Campdraft, Lorna has great enjoyment in seeing her cattle each year drafted. Ralph and Lorna have contributed enormously and recently a major contributor to the restoration of the Catholic Church. Successful graziers, they supported local business attended functions, raised a family, paid rates and are one of our oldest pioneering families in the shire and are well deserved recipients of this award.
Community Organisation of the Year
Etheridge Care
Etheridge Cares is a relatively new non-profit organisation that was created to address the needs of our ageing community in the Etheridge Shire through Remote Community Care. It has grown to encompass a large footprint within our shire and in neighbouring communities. Etheridge Cares is a group of dedicated, compassionate and enthusiastic locals with a genuine interest in the care and wellbeing of our elderly residents. Being locals, they have made a personal connection with their clients and have gained their trust. They are led by a team leader with extensive knowledge of the Aged Care sector who is ably supported by Local Co-ordinators and Carers. To say that the aged people are benefiting from this assistance is an understatement, they are thriving, and they greatly appreciate the help they are receiving from Etheridge Cares. This support ranges from guided assistance enabling assessment to obtain a Home Care Package, which is then tailored to meet the needs of the individual; and to then provide the assistance they require in their homes with day-to-day needs, like securing any aids they require and daily chores like gardening, cleaning and shopping, which can also include the delivery of subsidised meals when required.
This amazing group has organised visits from a Podiatrist, Remedial Massage appointments, community social events such as Luncheons with music and quizzes, Wednesday's Morning Tea and Shopping, monthly Bingo, and just recently a festive Xmas Lunch which included laughs, hugs and presents from Santa. The significance of such gatherings cannot be underestimated for the importance of the wellbeing and mental health of our elderly residents. Such gatherings are much enjoyed by the participants, as they can live quite a solitary life in their own homes, and these activities provide a meeting place which gives them a chance to communicate with others, some of whom are life-long friends.
Etheridge Cares has set a goal to purchase a Community Bus and is raising money with the collection of recyclable items through the Container for Change project, and the cost of each Remedial Massage has been kindly donated towards this cause as well. This bus will be of great assistance to enable trips to larger centres for medical appointments and in commuting to local events and outings. This wonderful organisation has 'filled the gap' and provided for a quality of life that was lacking for the aged members of our community and for that we say a big 'Thank you'.
---
Winners of the Etheridge Shire 2022 Australia Day Awards:
Citizen of the Year - Jodi Kernan

Junior Citizen of the Year - Sheridan Young
Senior Sports Medallion - Clayton Pedracini
Junior Sports Medallion - Zai Hopkins
Community Organisation of the Year - Mt Surprise Primary School P&C Committee
Senior Statesperson Award - Lux Lethbridge