BUDGET
…"planning & delivering for our future"…..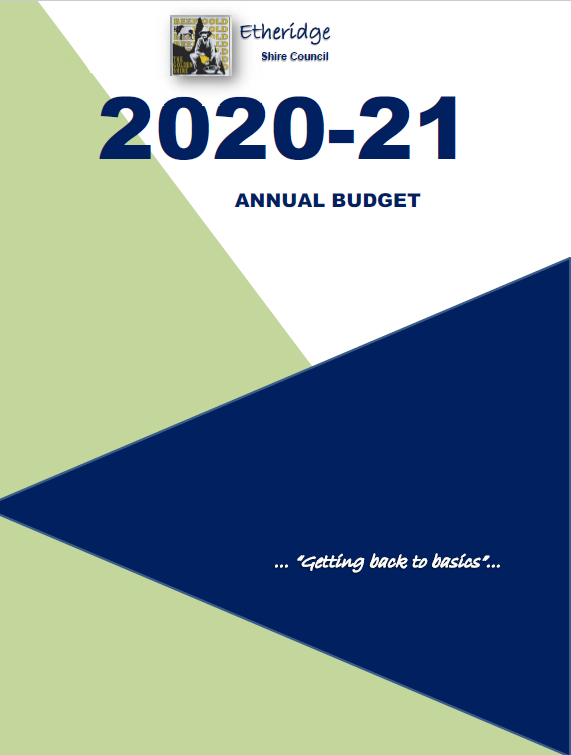 WELCOME to Etheridge Shire Council's 2020|2021 Annual Budget.
The Budget Document for the 2020|2021 financial year has been prepared in accordance with legislation and with the Budget priorities from the Councillor's, Executive Management Team and the Corporate Plan Objectives (2018 – 2023).
Each year the budget process is the most important part of the Corporate Calendar.
Changes to legislation in 2009 and 2012 now require local governments to consider the long-term when managing their finances. Etheridge Shire Council has taken this responsibility seriously and has been working to ensure that while this is a legislative requirement it is also good governance and management practice to ensure that the Council remains financially viable and planning becomes part of the way that we regularly do business.
Legislation changes in 2009 saw a move from a very prescriptive Local Government Act 1993 to legislation that gave Council more autonomy. However, with autonomy come's accountability and the Government provided for a set of five local government principles.
Etheridge Shire Council's 2020/21 Budget was adopted by Council at the General Meeting dated 17th June 2020.
The 2020|2021 Budget reveals Revenue from Ordinary Activities amounting to $18,040,023, total Expenses from Ordinary Activities (including depreciation) amounting to $21,635,790 and Capital Expenditure of $10,495,545 which makes the 2020/2021 Budget $32,131,335 in total.
Council looks forward to delivering on a $32.13 million budget in 2020/21 and is keen to keep driving the local economy through the responsible delivery of capital projects and a focused approach to the long-term planning and sustainability of our communities while maintaining the Shire's livability.
A local government must, within 20 business days after adopting its budget for a financial year, publish a notice (the availability notice) stating -
the amount in the local government's discretionary funds budgeted for use by each councillor for the financial year; and
that community organisations may apply for allocation of the funds; and
how to apply for allocation of the funds.