2017-18 Annual Reports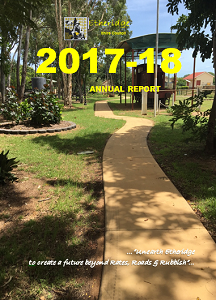 Welcome
Welcome to Etheridge Shire Council's 2017|2018 Annual Report. This report provides a comprehensive and transparent account of Council's performance and achievements for the past financial year (1 July 2017 to 30 June 2018). Each year, Etheridge Shire Council produces an annual report.
This is a legal requirement, but we also appreciate the opportunity to provide a report to our community on our performance against our corporate and operational plans. This Annual Report is part of Council's commitment to open transparent and accountable governance. It informs Council, Ratepayers, Community Members and other Stakeholders of the achievements and challenges of the past financial year and provides key information required under the Local Government Act 2009.
Copies
Copies of the 2017|18 Annual Report, as well as Council's Audited Financial Statements, are available to download free of charge electronically by clicking on the titles below.
2017|2018 ANNUAL REPORT 2017|2018 FINANCIAL STATEMENTS
Feedback
Etheridge Shire Council aims to make this Annual Report transparent and easy to read. Council welcomes your feedback and suggestions for improvement. If you have comments you wish to share, please direct them to Council's Director of Corporate & Community Services by phoning 07 4079 9007 or emailing info@etheridge.qld.gov.au
Previous Annual Reports & Financial Statements
| | | | | |
| --- | --- | --- | --- | --- |
| 2016 - 2017 | 2015 - 2016 | 2014 - 2015 | 2013 - 2014 | 2012 - 2013 |
| 2011 - 2012 | 2010 - 2011 | 2009 - 2010 | 2008 - 2009 | |